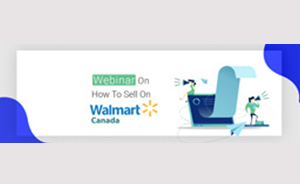 On October 10th, 2019, learn – How online sellers can build & transform their business on with the help of two eCommerce giants Walmart Canada & CedCommerce. The main attraction of this webinar is the guest speaker Kunal Gupta, the Senior eCommerce Manager Of Walmart Canada who will be in direct interaction with our attendees.
CedCommerce being the official channel integration partners of Walmart makes it possible for walmart canada sellers to learn directly from Walmart & eCommerce individuals.
Get ready for a brainstorming session revealing secrets to selling on the Walmart Canada marketplace.
Hosted by some of the brilliant minds in the field of eCommerce, this webinar will aspire online sellers to streamline their businesses and achieve unprecedented sales and results. Gather up all your questions as this webinar also includes an exclusive doubt solving session where sellers can get answers to their doubts & unresolved queries about Walmart Canada.
Save the date!!!
Learn Directly From Walmart Experts on the following topics:
What is Walmart Canada?
What can you sell on Walmart Canada?
How to start selling on Walmart Canada?
Why sell on Walmart Canada?
How can CedCommerce help you sell on Walmart Canada?
Why You Must Attend?
The webinar will be surrounding the key aspects of Walmart Canada Marketplace from the perspective of an online seller:
How to build a successful eCommerce business on Walmart Canada?
What are the major benefits and how to grab them all?
Learnings straight from Walmart Canada experts
How eCommerce automation solutions can help your business?
Takeaways tips from Walmart right in your mailbox!
Tips & tricks for Walmart Canada sellers to improve sales in the upcoming holiday season!
Register now to learn on how to transform your retail & eCommerce business by selling on Walmart Canada with CedCommerce
Details:
October 10, 2019, 12:30 pm EST (30 minutes duration)
Speakers:
Umair Jabbar (Associate Manager, Marketplace Business Development At Walmart.ca)
Akash Chaddha (Business Program Manager)
Nidhi Rajput (Senior Analyst Walmart)
Related Resources :
How to sell on Walmart Canada?
Walmart US 3P sellers to be able to list on Walmart Canada: Everything you need to know