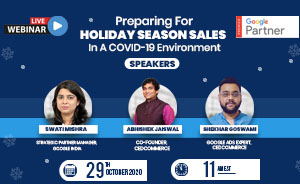 The Holiday season brings along opportunities for businesses all around. However, with shift in consumer behavior due to the impact of COVID-19, Holiday Season 2020 looks different than previous years. This year, a major turnaround has taken place with changes in shoppers' preferences and thus, turning them toward online channels all the more.
Even as stores begin to reopen, the study suggests 82% of shoppers plan to continue shopping online. In fact, as social distancing becomes the priority, we have an entirely new segment of first-time online shoppers too.
The Pandemic has indeed effected the businesses by and large. However, to turn the tables around, retailers need to plan strategies for digital channels. Hence, The Marketing Experts from CedCommerce in collaboration with the Experts from Google talk about it on our upcoming Webinar.
Highlights of the Holiday Season Webinar:
The differences between the Festive Season Sales Preparation this year as compared to the previous years.
COVID-19 accelerated the growth of e-commerce and therefore Tracking the Global Shopping.
Best practices for the changing retail landscape.
Optimizing Google Ads Shopping Campaigns for Holiday Season 2020.
Best use of Google Products for Retailers.
The focus area during the mega sale season.
The Right Marketing Tactics to follow for Holiday period in the times of COVID-19.
Agenda of the Webinar
The experts will address the impact of COVID-19 on Holiday Season Sales and the best practices to tackle the uncertainties in the wake of the Pandemic. The Webinar is aimed toward helping businesses make a splash this Holiday Season as we unveil best practices to follow for year-end sales. 
Consumer behavior changes during Holiday Season 2020
Speaker: Shekhar Goswami, Google Ads – Expert, CedCommerce 
Changing Retail Landscape due to the impact of COVID-19
Speaker: Abhishek Jaiswal, Co-founder, CedCommerce
Google Products for Holiday Season
Speaker: Swati Mishra, Strategic Partner Manager, Google India 
Holiday Season Best Practices & Focus Area
Speaker: Shekhar Goswami, Google Ads Expert, CedCommerce 
About CedCommerce 
Speaker: Abhishek Jaiswal, Co-Founder, CedCommerce 
So, get ready to be a part of this webinar disclosing the tips and tricks to maximize your sales with the spirit of festivity intact.