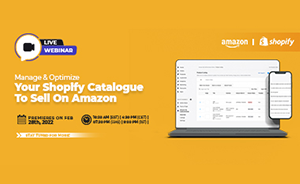 The wait is over! CedCommerce is all set and ready to deliver on promises! This highly demanded next episode in the series of Amazon-Shopify Webinar, answers your high priority query:
What can you do to your Shopify catalog in order to make it suitable for Amazon?
Product Listing optimization is basically your way of giving your own business a chance to be the showstopper, or in this case scroll stopper.
When you deal with Product listing, you are dealing with a superior field of science and marketing: The customer psychology of needs. Starting from Self-actualization to expectations, the journey is swift and elaborate.
What is there to look forward to?
Appealing to psychology makes or breaks the game. Over 86%of the customers find product descriptions to be a powerful influence in making decisions about products.
Furthermore, getting your product to actually reach the customers in the first place, for them to even consider, is difficult in itself.
Ranking on the top place, against the widest range of relevant keywords under the relevant category and simply being accessible is another task on your to-do list.
Once your Shopify catalog is optimized, uploading it on Amazon is another task, which, will take most of your time, if not automated. Thus, optimizing your inventory is one thing, making it accessible and available is entirely a new playground.
Find out solutions to these and many more avenues of managing and optimizing your Shopify Product catalog to sell on Amazon.
What do you get out of this?
Join us in this exciting webinar carefully crafted to answer your most probable queries in uniquely insightful ways. Here is a quick highlight of what you will get out of this webinar:
Understanding A9 Amazon Algorithm.
Essentials of Product Listing on Amazon.
Consequences of improper Product Listing.
Relevance of Product Listing optimization with respect to Amazon for Shopify Sales.
Best methods, tips, and suggestions for optimizing your Shopify Catalog.
Poor practices of Product Listing and things to avoid.
Customer Psychology and Buyer's Persona.
Role of Listing optimization in Sales and Reach.
Automated uploading of Shopify Catalog on Amazon
Product Management with CedCommerce.
When to join us?
Be quick and book your spot with us for the live session with us on:
Monday, Feb 28, 2022.
10:30 AM (EST) | 4:30 PM (CET) | 7:30 PM (UAE) | 9:00 PM (IST).