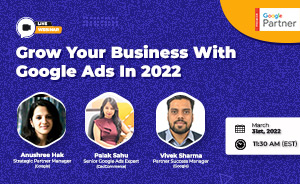 With over 1 billion worldwide users, Google tops the worldwide search desktop market. Undoubtedly, with such a massive audience reach, Google ads or Google shopping has become a key platform for online businesses looking for the most effective and cost-efficient advertising platforms.
Who should join this exclusive Google Advertising Webinar?
If you run an online business and are curious to explore Google as part of your advertising strategy, or you've used Google in the past but are keen to explore and leverage it further. Thus, to address these topics, we are coming up with an exciting webinar session where you can learn more about Google ads, how they can help online businesses, and the opportunities it holds for marketers.
Moreover, you will also get to know the latest trends and best Google ads practices for 2022. Interested?? Visit, and witness leading industry experts share insights on Google's potential to help you grow your business online.
Key Highlights Of The Webinar
Overview of Google shopping campaigns and what's new for marketers
Key trends of Google shopping
Best practices of Google Ad
Key features of Suite For Google Shopping Feed app
How CedCommerce Expert can help you advertise your business on Google
Exclusive $500 offer for first-time Google Ads users
Agenda of the Webinar
The experts will throw light on the importance of the dedicated advertising services of Google.
Unveiling the benefits of Google shopping campaigns under its paid marketing umbrella.
How the key features of the Suite For Google Shopping Feed app can help you in your marketing strategies.
Unveiling, not just the best practices and key trends evolving around Google Ads, but also how CedCommerce as an advertising agency and a Premier Google Advertising Partner can help your business scale with maximum return on investments.
So, join the webinar and don't miss out on the opportunity to witness a revolution in the world of paid marketing broadcasted with key insights from the experts' corner.
Speakers:
Anushree Hak – Strategic Partner Manager, Google
Vivek Sharma – Partner Success Manager, Google
Palak Sahu – Senior Google Ads Expert, CedCommerce
Details:
Join us for the live session on:
Thursday, March 31, 2022 | 11:30 AM EST