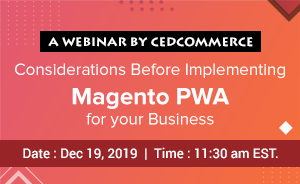 Progressive Web App (PWA) is touted to be the next big thing in eCommerce. It is destined to change the face of eCommerce like never before. Even those with native apps are also not safe from its impact. The dynamic and interactive features of Magento PWA make it an unprecedentedly omnipotent platform for online business.
"PWA comes across as a breath of fresh air for the eCommerce sector. It serves the best of website and mobile app in one intuitive program."
Eventually, business matters, not the platform. Keeping a business future proof is also a high priority task for sustainability. Therefore, Progressive Web App is vital for the futuristic vision of online businesses.
We are creating a webinar to clear the clouds of doubt from your mind. Considerations related to Progressive web app and how your business can leverage it – 
Key aspects of evaluation before moving to PWA
Why is it the best time to invest in a PWA makeover?
What are the challenges of adopting a progressive web app?
How PWA will propel your business growth?
How to implement PWA for your business?
Curious to know more? Our next webinar will help you understand the various factors about the progressive web app that you should know about as a business. 
Register for our Live webinar "Considerations before implementing Magento PWA for your business" at 4:30 PM GMT/ 11.30 AM EST / 10:00 PM IST on December 19th to get all the answers to your queries. Progressive Web App is overturning many business fortunes.
Start from our first webinar on PWA and its influence on the future of eCommerce.