What You Need To Know About eBay Selling Tools?
Running short of time? Get PDF of the blog in your mail.

Play Now
eBay, ever since its inception, has been in an ever-evolving phase. It aspires to make both the shopping and selling experience splendid for its users. And in the process, eBay always manages to surprise us in every possible aspect. The selling tools on eBay is one such example.
Buyers get refined and precise search results for their queries. In contrast, you get to experience top-notch eBay selling tools placed on eBay's dashboard, which helps and assists you all over. One can find eBay tools like the seller hub, seller manager, and selling manager pro, depending on their subscription. Not to forget the ultimate Promotion manager eBay offers to set up sales, deals, and various promotional offers that the sellers can utilize to set up the various offers for their buyers.
Tools eBay Offers
If you've not started selling on eBay yet, you're missing out on many things. For instance, a 185 million active user base spread over 190+ countries. Having over 1.4 billion product listings is a dream come true for upcoming and budding marketplaces.
Having said so, selling on such a vast platform can make any seller go crazy if proper tools that can support the selling process are inaccessible. eBay ensures that its sellers can enjoy a hassle-free selling experience on its marketplace. Since 1995, eBay has developed its indigenous tools that specialize in each aspect of the selling process. The tools that you'll find on eBay's seller panel are,
Seller Hub
Selling Manager/ Selling Manager Pro
Selling Templates
Sell With eBay App.
Promotion Manager
Sales Report
File Exchange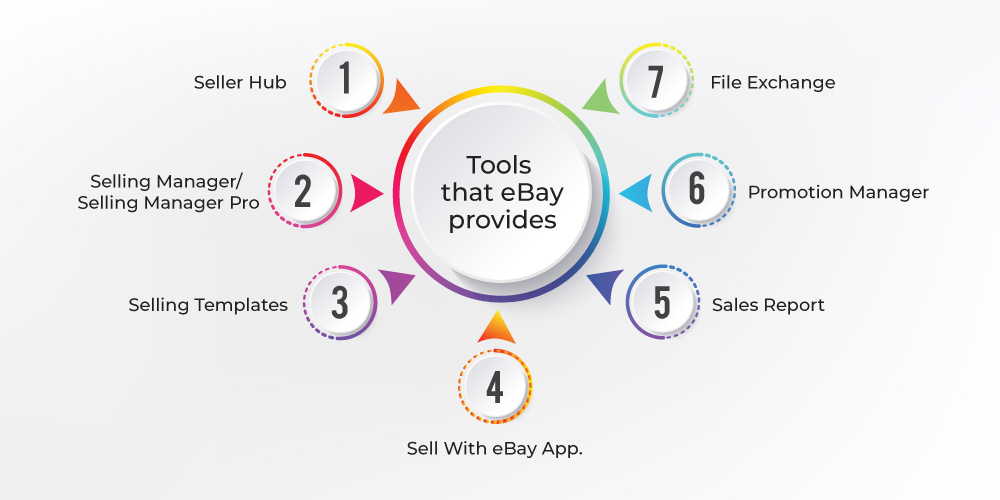 #1. Seller Hub
eBay offers you a Sellers' hub, which acts as a centralized location to access various seller tools. Seller hub provides you with insights on your seller account and sales on eBay. You can easily fine-tune your listings and make them perfect based on various inputs from the tools that identify issues thus, bringing them to your notice.
The seller hub gives you access to get a quick overview of all your sales and performance-related data. One can access and perform the following tasks from the seller hub on eBay:
Listings Management: The option lets you manage the listings and perform edits on them.
Order handling: Access information related to successful sales and manage returns, if necessary. The tools let you handle canceled orders. It also enables you to relist your canceled product listing.
Shipping solutions: One can also access the Shipping details of their fulfilled orders. The tool lets you add tracking numbers, eBay labels, and print invoices.
Selling Improvement Guidance: The eBay seller hub gives you tips and insights to improve your business. This can be beneficial to gain an edge over eBay's sales competition.
Promotions & Accessibility: The seller hub on the eBay dashboard gives you complete access to promotion tools like the Promotion Manager. It lets you have inventory control as well as schedule automated feedback.
Payments: If you're a managed payments seller, you can access your payment details like upcoming payouts, fees on hold, and under processing status. You can also edit the bank account information registered under managed payment.
#2. Selling Manager
The selling manager is the tool eBay designed to assist the sellers in the "medium to average volume" seller. As the tool lets you observe and perform specific actions in bulk, it becomes a perfect addition to your arsenal tools when the competition is cutthroat.
Selling Manager Pro goes a step further as eBay provides help with listings and giving insights. It is a subscription-based service for those having Basic Stores. However, the Premium or Anchor Store subscribers can avail the selling manager pro for free.
With a Selling Manager, you can create and manage listings in bulk, view the complete details related to your listings (active, sold, unsold, listed, etc.). It also lets you perform post-sales tasks like managing feedback, sending emails, and printing shipping labels in bulk.
However, with Selling Manager Pro, you can also schedule and relist unsold items. You'll have to pay the regular fee for relisting your products, track inventory, and adjust templates. The eBay selling manager pro also lets you download reports of your sales report.
#3. Selling Templates
Creating a listing becomes an uphill task every time you need to re-list your products. The selling template makes things easy for you by giving you an option to revise, edit and reuse the listings templates each time you need to enlist your products.
The Seller Hub and Selling Manager let you create up to ten different templates that you can use again. In comparison, the selling manager pro caps the limit at 20 templates for its users.
#4. eBay App
eBay also offers you a sense of mobility. You can list, sell, edit and manage your sales from remote locations through the eBay Application (Android and iOS). The best part about selling through the app is that your listings get synced across all your devices. It means you start listing on the app and then finish it on your desktop or vice-versa.
The eBay app now introduced got the Storefronts in the mobile app. It will help you get a boost in expanding your presence. The app also got a Dark Mode feature. It enhances the viewing experience, becoming the first marketplace to do so.
#5. Promo Manager
If you're a seasoned seller, you already know the impact deals, offers, and discount coupons have on customers. It also paves the path to help you create and nurture customer loyalty in your buyers.
The Promotion Manager on eBay is an excellent addition to your tools. You can leverage it to clear stock, reduce shipping costs, offer deals in the festive season like BFCM, and increase per capita selling on one of the biggest marketplaces.
The eBay Promotion Manager lets you create offers and discounts on your listing using five different categories of promotion, namely,
Order Discount: Discounts based on the order size or the amount spent on an order.
Codeless Coupon: You get to create exclusive virtual coupons for selected buyers of your choice.
Promotional Shipping: Free/Cheap shipping offers on certain products.
Sales Events: You can create a sale by reducing the prices of certain products/categories.
Volume Pricing Discounts: Creating a multi-tier discount directly proportional to the number of products (single item) a person buys.
#6. Sales Reports
As the name suggests, the sales report provides sellers with a piece of detailed information on how the sale has been on the marketplace. It keeps track of various aspects of selling like,
Total sales
Successful listings
Average sale price
Sales growth
The fees you pay
You can avail of the reports from the last six months when using the Sales Report tool. However, if you've got Sales Report Plus, reports from the past two years become accessible. If you subscribed to the sales report, it becomes mandatory for you to view the report once every 60 days. Failing to do so will result at the end of your subscription.
#7. File Exchange
If you're one of the high-volume sellers who upload and manage listings in bulk, File Manager is what you need. It lets you create and upload inventory through CSV files. You can,
Add
Revise
Relist
End listings.
Once you've signed up for the File exchange and have a stock-keeping unit (SKU) or custom-label-based inventory, you can also opt for eBay's Merchant Integration Platform.
Integration Tools
Apart from the tools that eBay has to offer, integration tools play a vital role in making things easier and more efficient. An integration app lets you connect your eBay account and manage inventory, orders, shipment/fulfillment, and products from a dedicated panel.
Also, multiple selling channels can make you lose track of your inventory and often result in overselling. However, with the app, overselling becomes a thing of the past.
Managing a store on either of the frameworks like Shopify, BigCommerce, WooCommerce, Opencart, Prestashop, or Magento while also selling on eBay can take a toll on your work efficiency. The app makes things simple as you can easily manage everything and automate your selling process. Integrating eBay means the app fetches your products and the relevant details from the framework. And then list them on eBay for you.

Putting it all together
Selling on one of the biggest marketplaces, eBay can become burdensome. You have all your hands on deck while handling the sales. eBay offers its sellers all the assistance to make the workload go away if used in the right way.
With tools like Seller Hub, Selling Manager, Promotion Manager, and others, you can start giving away offers and get insights into the sales report.
However, an integration app can help you reduce the workload even further. It takes you to a point where selling becomes more effortless and hassle-free. You get to manage the entire operation on eBay and your store from a centralized location.
Are you already using the tools eBay has to offer? Please feel free to share your experience. Contact Us through Chat, or Email.