How To Create a Good Email Subject Line For Your Business Emails
Running short of time? Get PDF of the blog in your mail.

Play Now
Your email subject line plays a vital role in email marketing because 47% of email recipients open an email based purely on the subject line. Emails have been the evergreen source of building connections far and wide in a super-fast manner. The reach of emails has shown their power to urge new connection establishments with the kind of accessibility and ease of operating they offer.
Emails have had some long-lasting impacts in the business arena since they nurture connections that effectively cater to all your business needs. Providing efficient and effective ways to transmit all kinds of business-related information, business emails help turn your prospects into loyal customers in the later stages and support lead generation.
Develop an Effective Digital Marketing Strategy
The most important part of a business email is the way it is perceived. This depends on the way it's written and what's the intent. A quality subject line defines your email in and out and lets you communicate with your prospect accurately. So being an integral part of the business mails, choosing an impacting subject line becomes very crucial.
What is a Subject Line?
Subject Line is the first text that the recipient of the email sees when they receive your mail. It is the first impression that you create on your users. A subject line identifies the purpose of the email.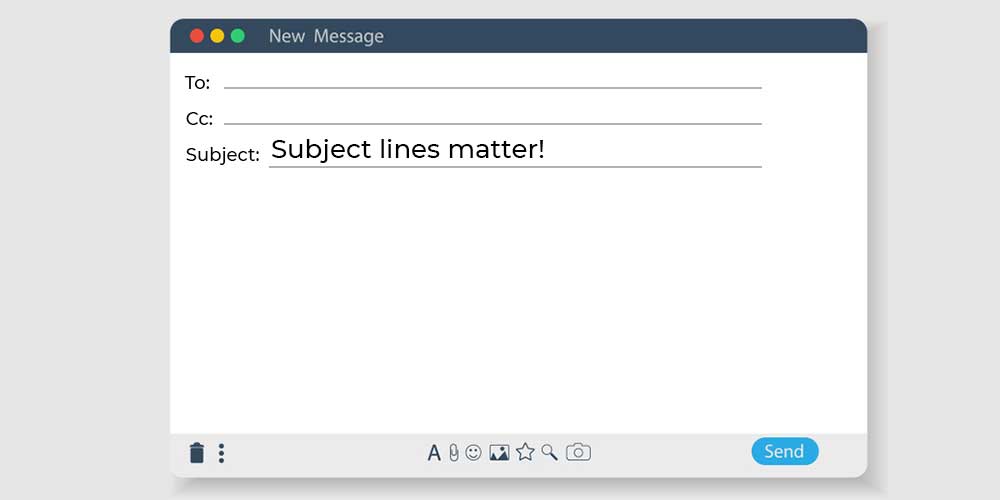 Importance Of Subject Line in Email Marketing
Why does your email subject line become such an integral part of email marketing? Do you know the reason?
The reason is that
Email subject line works as a blog title that tells the readers the intent of your topic
It is the first thing that the reader will come across, and the first impression is the last impression to motivate and persuade a person to open your emails
They can create a difference between a successful email strategy and a waste of your email marketing budget
Lastly, 99% of people open their emails daily, and therefore email subject line becomes all the more critical in lead nurturing and lead generation
You have to outstand from your competitors and get the consumers by your end with the most holistic strategy. Therefore make a strategy to create a productive and click-through email subject line for your email recipients.
So, let us now give you some tips to write the perfect subject lines to nurture a long-term connection with your prospect and grow your business faster than ever before.
Keep It Short
People love a good email title, and if you keep your subject line short and good. There is no doubt that your emails will get better open rates. Scan your email subject for your readers to convey your message to the ultimate consumer easily.
The use of mobile devices has increased drastically over the past few years. Therefore short subject lines play a significant part in today's digital marketing world. Below are a few points that you must consider when creating your business email subject line
Shorten your subject line to 25-30 characters
Use only 6-8 words for high open rates
At last, don't exceed your subject line above 60 characters because 82% of marketers follow this pattern 
Experts are sending shorter emails because people are receiving more emails than ever before. To captivate their reader's attention, email marketers must stand out. Short emails could be an excellent way to accomplish it. The points mentioned above are the best way to create an effective email and increase your open rates.
Scale Up Your Brand Visibility With Email Marketing
Try a Unique Subject Line
Keep variations and try to attract your targeted audience with a compelling subject line. Therefore whenever you want to create a perfect email for your targeted audience, it should be according to the context of your email. For example, It's Halloween time!!! Sizzle the unlimited offer, Grab the endless deal, and so on.
Therefore, create effective emails by producing distinctive, informational, and exclusive subject lines to increase your open rates. Remember, a slight change can significantly impact your targeted audience because everyone is adaptable to changes.
Use Clear Language
Avoid using spammy words in your emails and use simple and clear language to make your emails convey your message. Simple language is easy to follow because it is appealing and focuses on the email recipient. Avoid using aggressive language and be more practical with your words.
A simple language used in the subject line is always effective for email marketing. Therefore, let your email recipient know how your email will provide complete information clearly and concisely by giving the relevant insights in your email.
A/B Test Your Subject Line
Test your emails and subject line if you want to increase your open rate and want your email recipient to keep opening your email. Meet your email subject line and be relevant to your reader. A subject line test is easy. In A/B testing, you compare how version X of your email subject line performs in comparison to version Y within your targeted audience or contact list or whatever your preferences are:
Firstly, an email subject line X and Y is sent to a selected number of subscribers. You inspect which subject line was opened more frequently by the people, and the winning subject is finally sent to all the email recipients. The advantage of A/B testing is that it helps you understand what works for your email subject line.
It allows you to know how people are responding with different subject lines
You can increase your open rate because A/B testing will give you a better overview
A/B testing helps in analyzing and implementing the results for good email performance
And finally, A/B testing enables you to determine which variant is suitable for your target audience
Therefore measure the impact of A/B testing for your email subject line and find what works best for you.
Use Numbers
Our brains are quick to respond to numbers, which tends to be the reason for adding numbers in the email subject line. Moreover, this creates curiosity among the email recipients. For example, "10 bizarre money habits making Millennials richer." This type of subject line attract the attention of the email recipients and compels people to open your emails.
Never Make False Promise
It is essential to understand that people love good email, and you can create one with a clear and concise subject line. Use your subject line to explain clearly to your clients the content you're delivering.
Do not make a false promise with your subject line and end up wasting their time. Try to prioritize your email with an accurate and authentic approach. Be honest with your email subscribers and don't make them regret their decision.
The disadvantage of making a false promise with your emails will result in
Lower open rate
Decrease in brand loyalty
Break the trust of your subscribers
Harm your email marketing efforts
A higher unsubscribe rate and much more
Begin With Action-Oriented Words
Subject lines are like a call-to-action button compelling the audience to open the emails. Therefore, you want a language that persuades people to open the email. Actionable subject lines are effective in creating urgency and excitement. Therefore, use action words at the starting of your email to inspire readers to take action.
Some of the examples of action words are
Save your spot
Hurry!
Limited time offer
Before stock runs out
Exclusive
Win the deal
Secure
Proven
Tested
Grab the attention of your readers with the best email subject line and drastically result in more clicks.
Generate Curiosity
It is human psychology to be curious. You should write subject lines that pique your subscribers' interest. Let's understand this with an example. Who is the king among Women? This title piques curiosity and would make a great subject line.
Consider it this way. Suppose you want to email your subscribers a link to your recent blog post about a similar topic. Now, if the subject line says, "Pinterest is King Among Women," your email recipient will have no reason to open your emails.
What is the reason for this? Because they've already figured it out. You gave it away with your subject line. Instead, create curiosity and tease what's inside the message to get a higher open rate. Therefore, by tempting curiosity you can achieve few things
Increase the open rate of your email
Increase conversions
So pique curiosity and take advantage of the best marketing tactic.
Scale Up Your Brand Visibility With Email Marketing
Communicate Urgency
Make your readers feel compelled to act right away. So, how will you succeed in this? Give a deadline to your readers and drive them to take action. Use your email structure in a clever pattern- subject line for creating urgency and the body of the message as a perfect call to action. In this way, you can compel your readers to click and open your emails. Another strategy that works wonders is the fear of missing out (FOMO). This strategy works best on social media platforms.
But it's still an effective method to apply on your subject lines and increase your open rates.
Limited edition offer
Gift for first hundred purchases
Limited quantity available(1050 sold out)
Only two left in stock
These words compel you to act immediately. Apply the same strategy for your email subject line. As a result, when it comes to email marketing methods, scarcity and urgency go hand in hand. Experiment with it in your next email campaign.
Include Free Offer
Adding offers and promotions in your email subject will keep your customers happy. Freebies give customers a reason to open your emails and click through your messages. But businesses often hesitate to use the word free in their subject line. Why? Businesses fear that inboxes will consider it spam, and subscribers will never see the message. However, this is not true. This theory is not supported by evidence.
Personalized Subject Line
Being personal with your emails creates trust and helps establish long-term relationships. Moreover, personalization in the email subject line helps achieve the following
Therefore, as a digital marketer, you can improve your email strategy by adding personalization to your emails. The easiest way is by adding the name of the recipient to your email subject line. You can also trigger the following aspects for creating the best email subject line.
Time
Use the time factor by understanding at what time the email will arrive in the recipient's mailbox.
You can use words like 'Good morning David' or 'Good evening David' to address your email recipient.
Location
Use location by mentioning the particular territory or country.
For example, "Hi, David, We are giving a discount of 50% to our US customers on all our product range if you order today before 4 pm."
Calendar events
You can use calendar events such as Christmas, Easter, and other significant events to hit the clients with personalized emails.
Social Media
Leverage social media
For example, "Hi, David,
Thank you for following our company on the Facebook business page. As gratitude, we would like to offer you a 20% discount on your next purchase."
This way, you can trigger various aspects of your email subscribers and get the best results in your favor. Moreover, all of these factors contribute to creating a personal bond between your customer and your company.
Finally, it will affect the number of clicks on your emails.
Develop an Effective Digital Marketing Strategy
Conclusion
Email is the most effective medium of communication. A simple strategy with sound implementation will help drive the best results in your favor. Create the best email subject line to attract the attention of your readers and subscribers. Connect with your subscribers and try to implement the above strategies in your email subject line, and build the trust of your audience. Therefore, by adding the above elements in your subject line, you can improve your conversion rates and compel people to open your emails. Try out these simple ways and make sure that the subject lines elicit strong emotions.