Etsy Trends 2022: Explore What's New and Plan your store for the New Year
Running short of time? Get PDF of the blog in your mail.

Play Now
No matter how hard the past is, you can always begin again. After suffering the past two years in a pandemic, shoppers and sellers want to give 2022 a fresh new start. The new Etsy trends 2022 are already out. The new trends on Etsy have brought newer opportunities for you to heal and hale with joy and success.
Since the Festive season is over now, you will find shoppers flocking to your stores for valentine's day and Chinese new year shopping. However, the new Etsy trends 2022 are very different from before. Plan out your store to begin the year with fresh and positive vibes. Let's share with you a flashback of 2021 once, before what is the new trend!
The Key Highlights of Etsy 2021
Let us peek back to collect the information and know what happened last year before planning for the coming year.
At the beginning of the year, buyers start to look for Festive season specials. Searches for Christmas decorations increased by 452%, custom portraits increased by 316% in September 2021, whereas home gifts increased by 2778% in October 2021.
Searches for Environmentally and eco-friendly items increased by 28% in 2021 compared to 2020.
In comparison to 2020, there was a minor drop in BFCM sales, but the volume remains high across e-commerce as more consumers buy online compared to 2020.
What are the opportunities and new trends on Etsy in 2022
A new year is bringing new hope and scope all around the world. The e-commerce platforms like Etsy are all set to outshine with new plans and trends for 2022. Etsy has revealed its top trends. Let's go through them.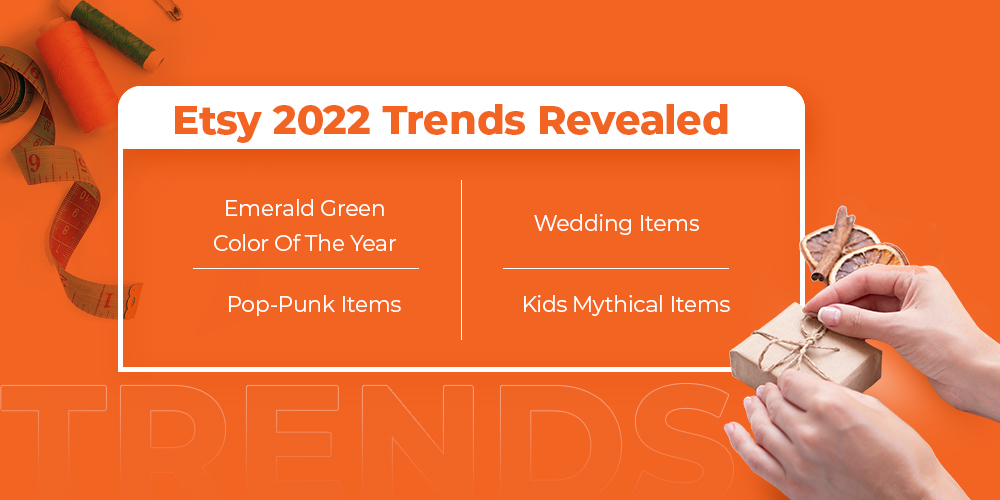 Emerald Green: As per Etsy, Emerald green is destined to become the signature color of 2022. People are already searching for emerald green items up by 64% and green decor by 60%. You can find people searching for Etsy emerald green earrings; such keywords are most searched.
Kids section: There is a rapid increase in searches for fairy items with a 51% increase, mythical creatures or beast items increased by 39%, and dragon toys increased by 22%.
Wedding Items: So, the searches for vibrant and colorful Etsy wedding items have jumped 223%. Things like invitations to centerpieces and even wedding dresses are in high demand.
Events Specific: Apart from all the above predicted for the new year, you shall also plan your store as per the events that will come. Start planning your Etsy listings for Chinese new year, valentine's, and women's day. Get your store ready prior to the events falling into the coming months.
Here is an announcement that Etsy is raising seller transaction fees up by 1.5%. This move has been taken to improve the marketing and support to further extend our strong momentum.
What are the Benefitting Etsy Business Opportunities in 2022
Once you have decided to sell online with global platforms like Etsy, you should have an excellent plan for your business. Etsy is a platform where you can witness creativity in various forms. So your plans should be different to stand out among various other businesses. Let us provide you with ideas to kick start your Etsy store or renovate your existing ones.

Beautifully Bloom your Store
Humans live in different regions across the globe, but nature knows no boundaries. Since Etsy is a platform for uniqueness, you can blossom your buyers by providing them with beautiful flowers and plants. You will find buyers from different countries who want to purchase various plants cultivated in your region. Those who love nature will find you on Etsy.
Throwback Treasures on your stores
House decoration items are always the most searched and purchased items on Etsy. According to the trend report, there is a 344% increase in searches for 70's lighting, 27% increase in Sculptural lighting, 22 % increase in Vintage and colorful lighting. You can plan out your decor store for the coming year, following the trend and searches of people.
Make your Store Glam with Jewels
Even though the festive season is over, there is no end to the celebrations. People are more likely to buy vintage designer jewelry, Oxidised and as per the trend emerald green jewelry in this new year. The year has just begun, there will be several events that will come. Your buyers will love to buy varieties of jewelry from your store.
Make your store Simply Green
On Etsy, your buyers are searching for eco-friendly items. So items made from Jute like bags, wall hangings, and decors are the most searched and purchased items. Paper jewelry and decors are in demand too.
Last but not least, buyers' favorite category will be Fashion stores on Etsy. Etsy reveals that spiked collars are soaring in search, along with vintage plaid items, fishnet styles, studded belts, and more.
Increase your Sales this New Year
The New Year brings you new opportunities and excitement. Now is the time to do wonders on online e-commerce platforms. You must have noticed various creative merchants' success and dream of growing your business similarly. So, what are you waiting for? Grab the secret method to increase your reach and sales. Like many other successful online merchants, you can also sync your online store with Etsy. You will find good reach, traffic, sales, and response to both your stores.