9 Elements of successful eCommerce websites you must know
Running short of time? Get PDF of the blog in your mail.

Play Now
If you're thinking of starting an eCommerce business, it's very essential to be aware of all the aspects and essential elements of an e-commerce website.
So, instead of visiting multiple multi-vendor websites in search of the components, you can just go through this post. We have created a complete list of the integral elements of an e-commerce website that will help you to get an ideal blueprint. Let's start!
1. A Responsive Web Design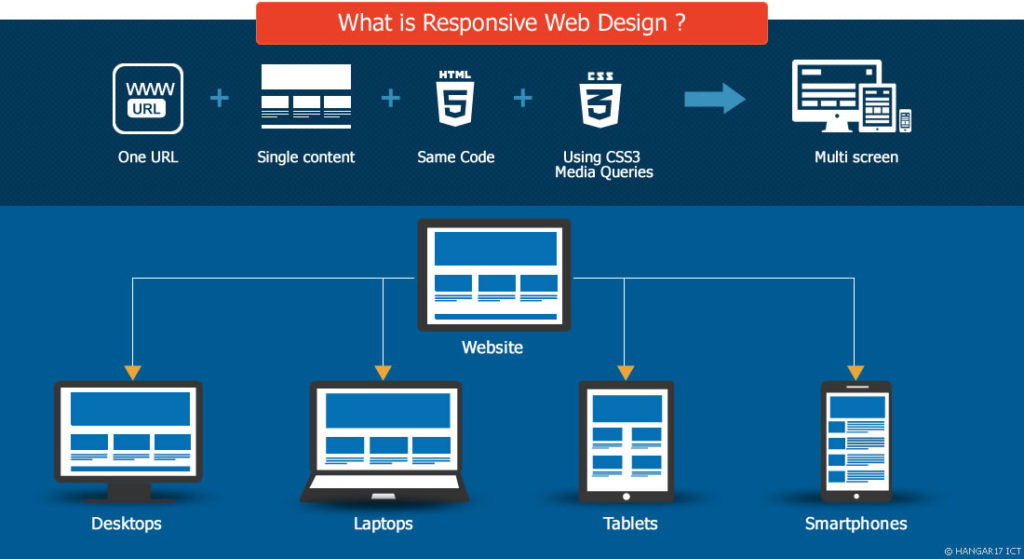 of all the crucial features of an eCommerce website, responsive web design is the most essential and fundamental feature for an eCommerce website. Why?
Because a responsive website is the one that is compatible with all devices. To be more specific, it makes your website easily accessible and mobile-friendly.
57% of users won't recommend or visit a website again if it is poorly designed and not mobile-friendly. A responsive website is the most essential component of a successful eCommerce business.
The reason is, most of the time people prefer to access your site from their comfort zone. And they can't carry a bulky PC or laptop with them all the time. An application of your website compatible for mobile devices will be most suitable. However, even if your site doesn't have an app, it should still be accessible from mobile phones. If we take an example of a fixed website, the view that it provides on a PC will not be modified for tablets and smartphones. As a result, the customers might be forced to see it in landscape mode or the larger images may also break the layout. Plus the site can also take forever to load if there are heavy graphics used. 
How does it work?
Instead of using pixels, the responsive website frame uses fluid grids and the proportions are adjusted according to the gadget you are using to browse. For instance, if you have to put three columns, instead of deciding the size of each column, you will decide how much part each column will cover out of the total screen size.
It is the progressive enhancement that all the eCommerce business owners are adopting for the layout of their websites because they are well aware that more and more people are switching to mobile browsing.
It takes a time period of just 0.05 seconds for a user to establish an opinion about your website, which determines their action of staying or leaving your site. A responsive website can help you hold your customers for a longer period of time and thus, can increase engagement. 
2. Fast Loading Time

Most of the website users tend to care about the speed and loading time of a website. It somewhat affects the time period they spend on the website as well as how often they visit it.
According to Semrush, if your website can load in 1.7 seconds then it's almost faster than 85%of the web. Ultimately, increasing the loading speed of a website is an opportunity that can get you more conversions.
More than 45% of people believe that waiting for a website page to load is what they dislike and those sites which take five seconds or less to load are able to get 70% longer average sessions. 
What does this imply?
Simple, the above stats clearly implies that the lesser your website takes to load, the more engagement and conversions you have. Now, you know how essential this feature is for your e-commerce website.
These are some factors that will help you prevent the website from being laggy:
Decrease HTTP requests
Whenever a browser draws out any picture, data, or file, the HTTP(Hypertext Transfer Protocol) requests are counted, and according to Yahoo, these take up about 80% of the loading time.
You can decrease the time period by taking some specific measures like reducing the number of images you use, using queries only to load the necessities, etc.
Cache the browser
It will allow all your website assets to download in the hard-drive or any temporary storage. The files being in your storage will allow the website to load faster.
Optimize the files and compress images
Since images take a larger part of request time, keep the images around 150 kb or below. Use JPG format for most of the images and use the PNG format where you need a transparent background.
Optimize the files with the help of the optimization tools.
3. Easy Navigation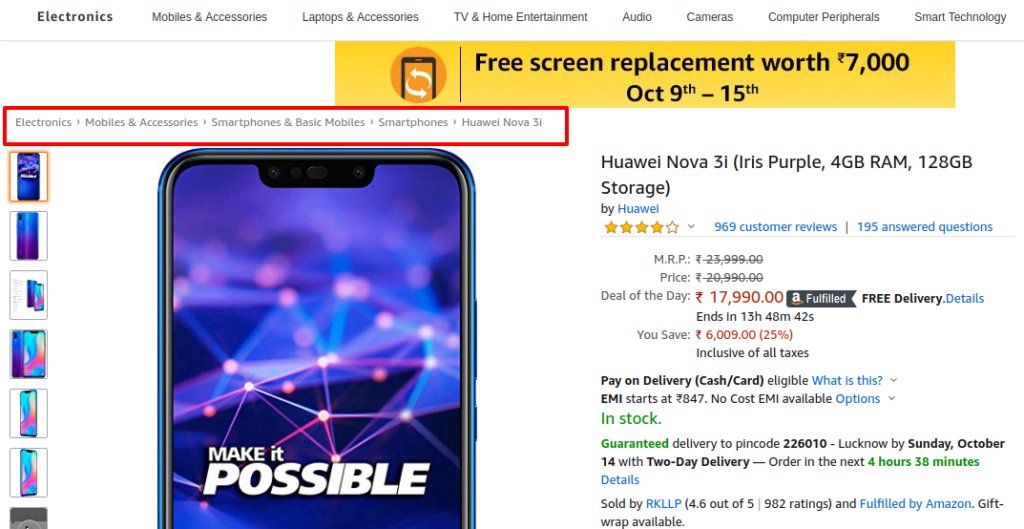 This is the second most important feature of a successful website. In order to decrease the bounce rate and increase visit duration, it is necessary that your website is easy to navigate. While browsing or making a purchase, a well-framed and navigable website helps the users to follow the directions. It makes their experience on your website quite smooth-sailing. If everything is present in front of the customer's eyes, then they don't get confused and frustrated.
It is necessary to provide a navigation bar in your website design to make sure it is well elaborated.  Breadcrumb navigation is an important feature, it helps the browser jump to any section in the middle of the home page and the product being browsed which makes the search short and to-the-point. It also makes the website more clean and precise, improving the overall look of the site.
There is a reason why the navigation bars are placed on the top or at the extreme left of the page. These are the primary places to get attention noticed by the web users.
The two types of breadcrumbs best suited for eCommerce sites are-
Location-based breadcrumb (hierarchy breadcrumbs)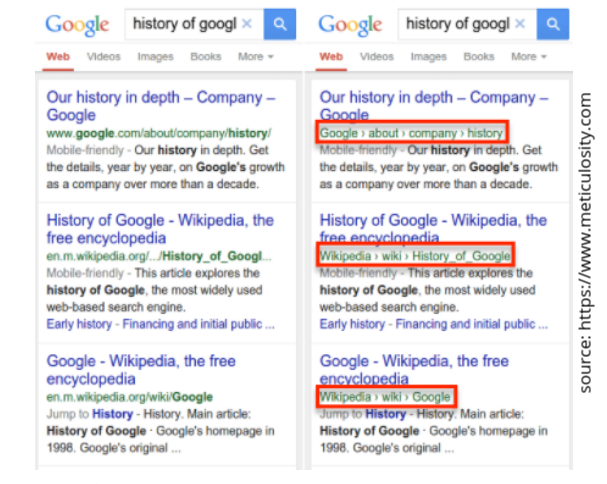 source: Google
It helps to showcase the whole website structure. This kind of breadcrumb structure lets the consumers jump directly to other products rather than navigating to previous pages one by one, in case they don't like a product on your page and want to see something else, thus reducing the bounce rate.
It also helps the web crawlers to see how one page is related to others.  
Attribute-based breadcrumb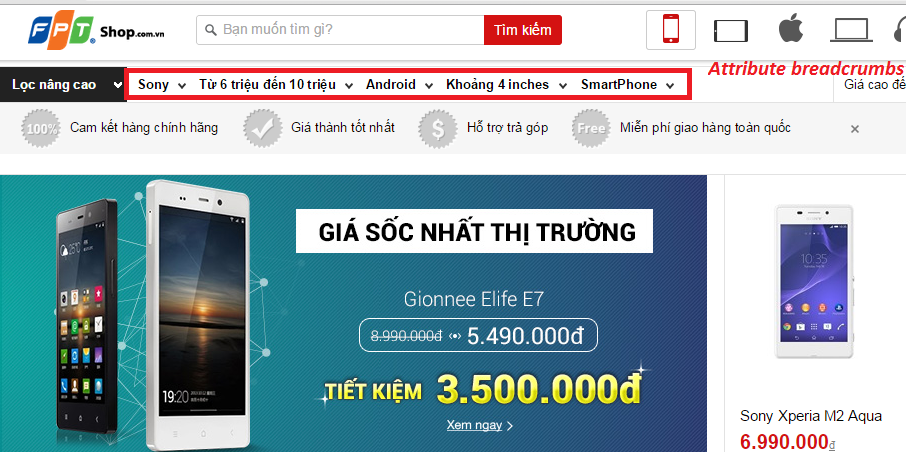 These breadcrumbs are also known as keywords-based or tags-based breadcrumbs.
They are very useful for content-rich websites or the ones that have several categories because they let the user to de-select product filters if they want to, making it less hectic for the users.
4. CTA (Call To Action) Button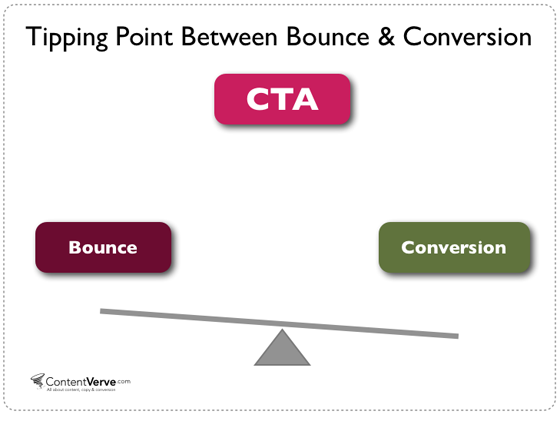 Without this element, every eCommerce website is incomplete and pointless. There will be no point in attracting all the traffic if you can't convert it. The conversion rate is majorly affected by the CTA(call to action) button.
Focus on these points while you place a CTA (call to action) button for your landing page.
Clear text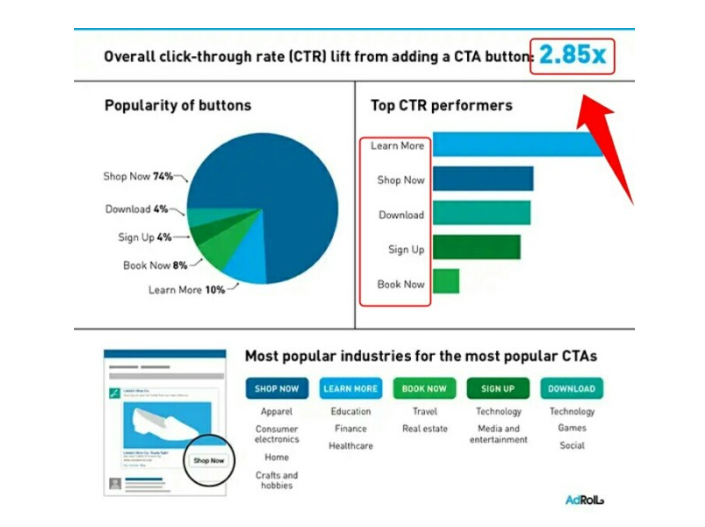 Choose a proper and precise text for your CTA(call to action) button. Keep it short, better try to keep it just a single word.
Placement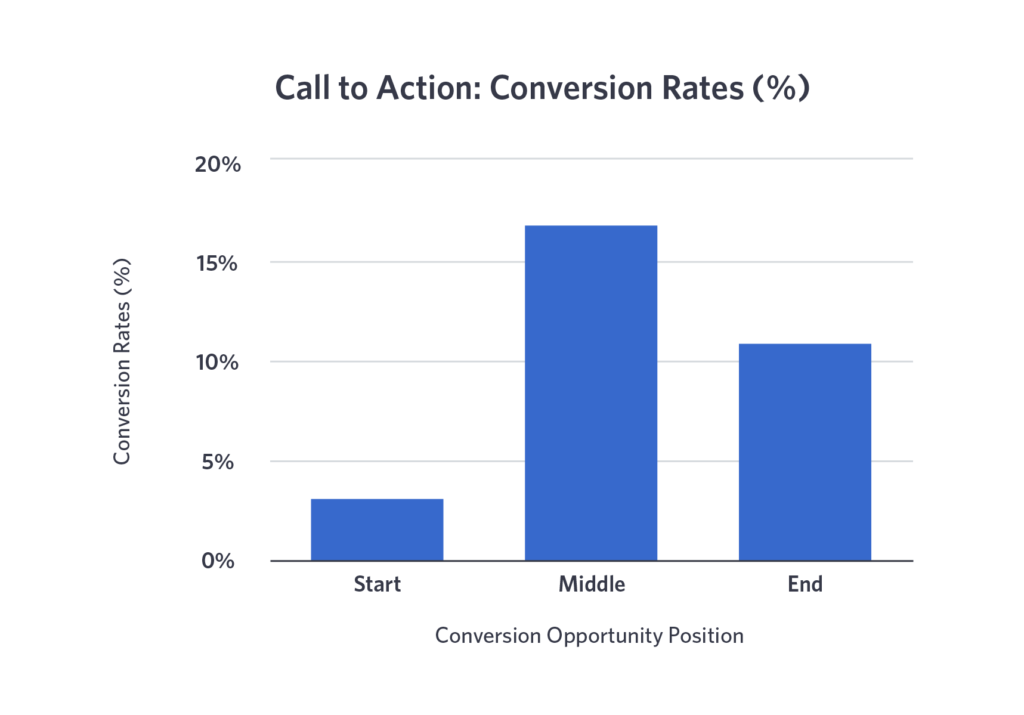 Source: wistia.com
Choose a place where the button is prominent. It has been seen that a CTA (call to action) button placed in the middle instead of bottom or top has a higher click-through rate. You must place the button where it seems most logical.
Size

The CTA (call to action) button should be easy to find it should be flashy and easy to differentiate from the other elements present on the page. The text size should also be prominent
Colour
The color should make the CTA (call to action) button stand out. There should be enough white space around the button, and the text color on the button should not clash with the color of the button itself.
5. Add to Cart Option

It is one of the most necessary features of an eCommerce multi-vendor marketplace until you have an online booking business website because these sites don't need a cart button.
Buyers need a cart button because it helps them to store the items they want to purchase for a while.
It also eliminates the whole process of making a purchase one by one when a person wants to buy several things at once. All they have to do is keep adding the items to the cart and then proceed to check out and make payments compositely.
On some websites, having the cart option eliminates the need to register. Users can directly shop and pay without registering themselves on the site.
Also read: Top 13 eCommerce website features to boost your business
6. Multiple Payment Options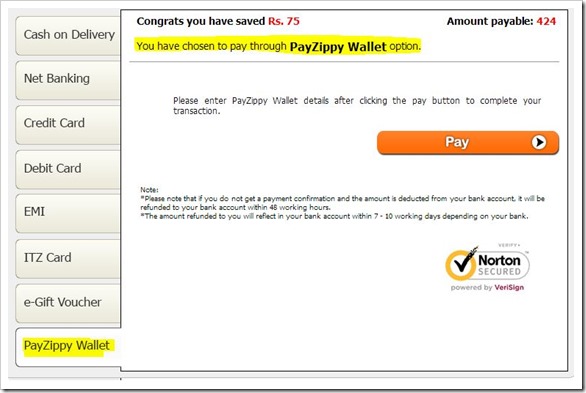 Keeping in mind the convenience of people there should be multiple payment methods. For instance, some people prefer the COD (Cash On Delivery) option while some people find it easy to pay via card. So, if your eCommerce website is providing different payment options, it will be able to attract more customers as they will be able to choose the payment option that suits them the most. Some of the topmost multiple payment options include credit card, debit card, PayPal, COD, UPI payments, etc. If your eCommerce website somehow fails to provide various payment options, then there are high chances that your consumers may drift to other websites providing it.
Other related reads: Top 7 Components of a Successful eCommerce Marketplace 
7. Order Management System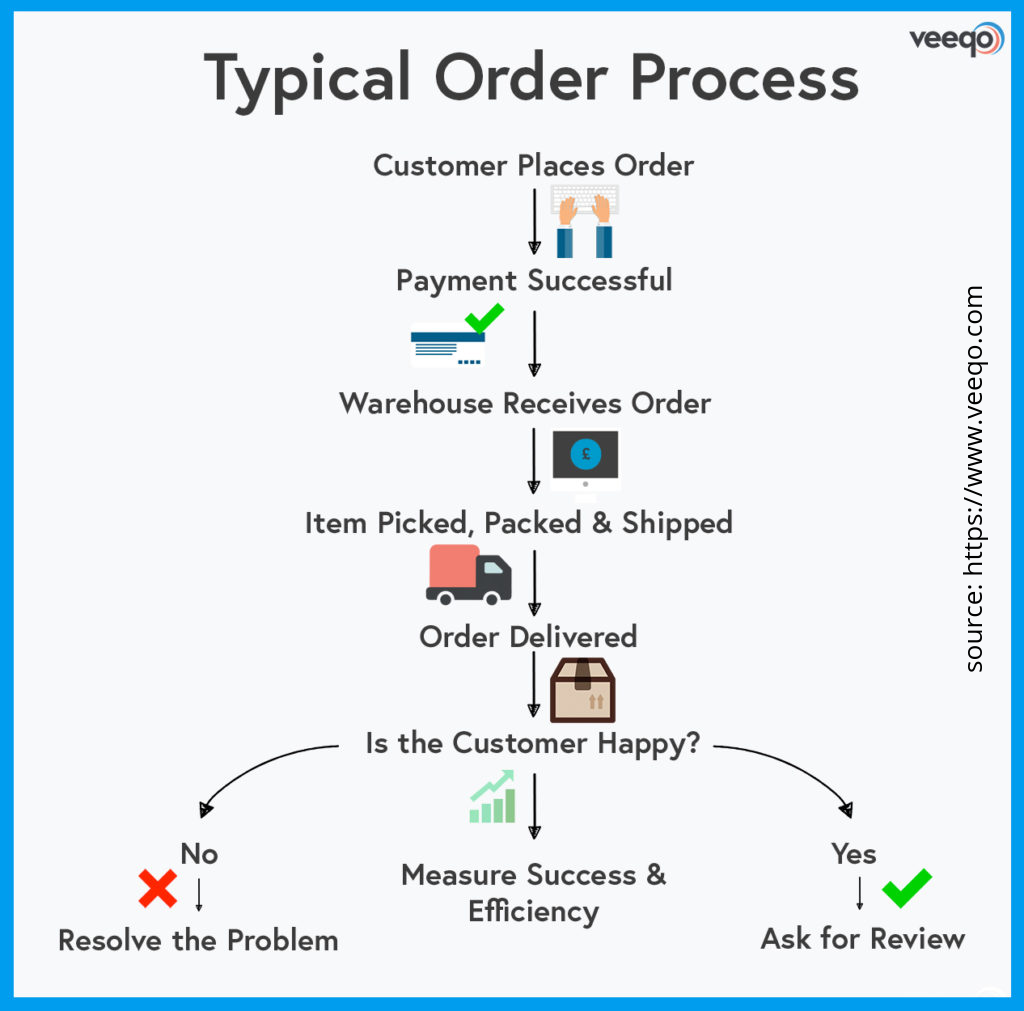 Your website should make it an easy task for the vendors to clearly see, align, and manage their orders without any confusion so that they can fulfill their orders in time. If not, then it can cause a lot of fuss for the vendors to manage their orders which will ultimately affect your business. 
It simply means keeping track of the order of the customer which means it covers the whole process from when the order is placed till the delivery is made.  
The advantages of this system are-
It helps the customer to keep a track of the order they placed, they can literally see on which stage of the procession is their order.  
It helps the vendors to align the orders and keep a track of all the orders placed so they can see whether all the orders are being fulfilled in time or not.
How can you have a hassle-free order management system?
Receiving an order
This is the initial step. Keep a track of all the orders on a daily basis, because there are several orders placed per day for the products of different vendors on your site. There should be a specific system to notify the vendors when the orders are being placed for their products and special orders should be highlighted.
Payment receiving process
If the payment system is difficult to use or faulty then all your efforts of traffic conversion will go down in dumps. Make sure that the payment transaction system works smoothly.
Consolidating multi-channel orders
Selling on multiple channels can increase your sales, however, it can also create a wide scope of missing orders as the channel will broaden up and keeping track of all the orders manually will very hectic. But you can solve the problem by using an OMS that consolidates the data automatically in the back office.  
Order picking process
With hundreds and thousands of orders being placed each day, it can be a bit confusing to choose a suitable order picking process.
You can choose from these top-order picking methods to initiate an easy and beneficial operation:
Wave Picking Method: This method is based on an order-picking sequence that mainly focuses on the single line products to fill in an order in one round within the warehouse. It is a quick and efficient method of picking orders.
Batch Picking Method: This method is no different than the wave picking method, but it involves more than one order at a time. So, a single picking list includes line items for multiple orders. The order pickers than completes the group of orders in one trip down the picking wave.
Zone Picking Method: As the name reflects, this picking method involves 'zones'. The picker gets designated to one single-zone, even if the order includes line products for more than one zone. Zone picking method is the most suitable for the large warehouses, or where there is a wide range of products.
Order fulfillment
To make sure that the order is fulfilled in minimal time is the main element of OMS. According to a survey, almost 60% of the customers expect a next day delivery system. The motto is simple the faster and the more accurately you deliver the happier you make your customers.
Also Check: Get Inspired by the Unique E-commerce Business Websites
8. Communication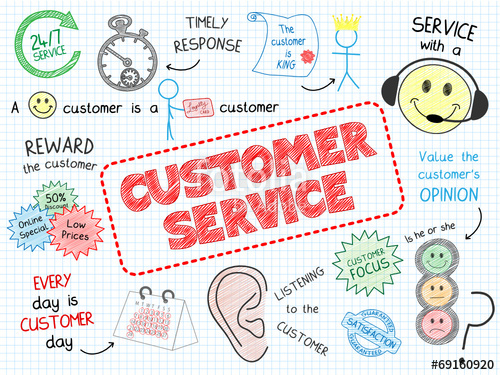 Having a proper communication channel for the convenience of the consumers is also an important element that your website must-have.
Supposedly a customer is new to your site or even if he is a regular customer, he can still have some queries. How will he reach you to get an answer? That's the reason you should provide an active communication channel. It makes the customer feel connected to you.
Also read: Things To Keep In Mind Before Starting an Ecommerce Business
9. Security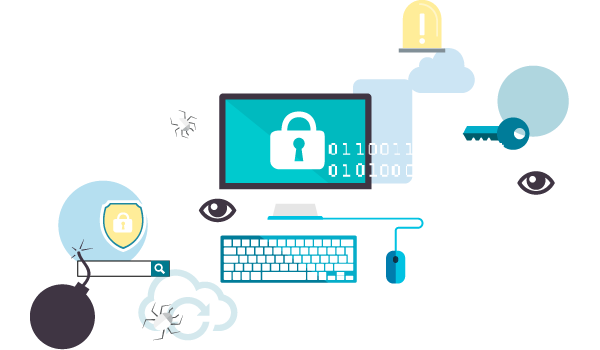 Securing crucial data of your website that includes a payment card number of your customers and the payment gateway security, passwords, etc.
Here are a few points to keep in mind-
Make sure your site's security system falls in the parameters of the recognized authority in your region.
Use SSL (Security Socket Layer), it is a digital certificate for data encryption.  These will help to keep safe all the private data.
Price and data scraping is a big problem nowadays. Some online competitors are clouting bad bots that perform click fraud, scrape product data, and price. 30% of web frauds are caused due to bad bots. Use real-time bot-detection technology to detect and eliminate the bad bots.
Make it essential for customers to use strong passwords.
A lot of frauds occur due to the blunder of humans, hence train your employees to be aware of online security.
Cedcommerce Can Help
For a remarkable amount of time, CedCommerce has been offering the necessary technical solutions specifically made for building one such platform. These extensions come with a multitude of features to aid in the development of a rich multi-vendor e-commerce marketplace. And add-ons are ready-made and reasonably priced solutions for building a website like Amazon. A marketplace armed with these features is undoubtedly going to possess the best in class features.
For building your own multi-vendor marketplace platform and to see what our satisfied customers have to say about us do visit: CedCommerce