Shopify Unite 2019: Lets meet, greet & grow together
Running short of time? Get PDF of the blog in your mail.

Play Now
After attending consecutive Shopify meetups in India – A day with Shopify and Shopify Pursuit, it's time to go global. The benefit of attending the regional leg of Shopify's meetups have compelled us to attend the ecosystem's marquee event, Shopify Unite 2019, going to held in Toronto, Canada from June 18-20, 2019.
We couldn't agree more what Anastasia Philopoulos mentioned in the announcement blog,
"Today, the Shopify Partner community is busy laying the foundation of that future: partners and developers build online and offline commerce experiences, address unique merchant needs, and empower entrepreneurs all over the world."
Indeed, Our previous attendance at Shopify meetup event has enabled us to forge new connections, put us in direct contact with regional players and explore and manifest business opportunities.
This is exactly what we expect to materialize at Shopify Unite 2019. To interact and get to know the psyche of people that run and operate the Shopify ecosystem worldwide. It's one heck of a learning experience when you're not the smartest person in the room and this time it's going to be a giant hall (pun intended).
Being a corporation which believes in jumping from the cliff and building the aircraft down the hill. It gets even more exciting when we take a look at the agenda of the pursuit.
Shopify Unite 2019 Agenda:
Building Multilingual apps:
As multi channel listing and inventory and order management apps have been at the core of our Shopify businesses, it gets quintessential for us to work in this area. Our apps have been used by merchants across the globe. And due to merchant's and customer's inclination towards their native language in certain geographies makes it a compulsion and necessity, both at the same time, for us to deliver the solution. Therefore, any lead in this area at Shopify Unite 2019 will help us optimize our solution as per the consumer behaviour.
Building for a global audience:
This also where we're excited to listen to what experts have to say. Though our tryst with this vertical doesn't go long back, nevertheless, the experience has been rather humbling. While developing stores for merchants from different geographies, we have observed preference for different payment methods, shipment method, loyalty programs, product information structure and length. Therefore, we're anticipating that new information will dawn upon us in this session.
Improving shopping experience with Digital Media:
E Commerce is on the rise and with days to come more people than ever will join the e-commerce bandwagon. The question is who will get to them and the answer is simple those who will align their selling strategies with the consumer behavior, and being part of the e commerce community and with an aim to democratize eCommerce, we consider it our duty to deliver right and accurate solution that not only captures the psyche of the audiences but converts visitors into repeat buyers. Therefore, this session at Shopify Unite 2019 will help us get a grasp on right kind of strategies from the findings of Shopify which can help us better capture.
New Ways to grow your business on Shopify app store:
With 16 apps currently available on Shopify app store, it is crucial for us to know the strategies that can help us broaden our reach to shopify merchants. Till now we have followed all of the guidelines mentioned by Shopify to surface the apps in the top positions when customers search. This session will build on the existing lessons we have learnt.
Choosing GraphQL: APIs for scale, performance, and new features
We're really excited with the versatility of the GraphQL, we are currently using a mix of Rest and GraphQL APIs to import and export data to facilitate the catalog transfer between Shopify apps and e-commerce marketplaces. Therefore, we're looking for its applications which can be deployed in our apps hence ameliorating our existing methodology to facilitate hassle free operations to even higher degree.
Our Agenda at Shopify Pursuit 2019:
With the experience gained from attending the leading ecommerce events worldwide, we learnt one thing that there will be a lot of things happening in the Shopify Unite 2019 but you can't cover all those. Therefore, you should have your own personal agenda. Therefore we have zeroed down on our agenda which majorly focuses on exploring B2B business opportunities.
Shopify web development agencies:
We were fortunate enough to connect with some of the brainiacs from India at the Shopify Pursuit.This time we're looking to connect with all such persons at global level at Shopify Unite 2019. We have catered to 5000+ clients. Therefore, we're looking for shopify ecommerce development firms, who can work with us and recommend each other to their clients.
Repricer Tools:
Almost all the eCommerce companies are following the marketplace model, following on the footsteps, as the merchants on the eCommerce marketplace grow, so is the competition to appear in top positions. Here repricer tool helps merchants determine right price point to be considered among the top positions in search results. Therefore, we're looking for firms that can employ AI and machine learning to come up with the right kind of tools which enables our merchants find right price point and win the buy box.
Notification Apps:
It is pertinent to be in the know-how of your business status to be on the top of your game. Here notifications help, they enable you to get the status of your inventory, order, catalog status. At the same time they can be used to create urgency for the customers to expedite the purchasing behavior.
Shipment Solution Provider:
As all of our Multichannel Integration apps – enabling sellers to connect their store with the leading marketplaces – are compatible with 3P shipment apps. However, what can be better than to have a native solution for these apps which makes it even more effective for merchants.
So there you have it. We expect meeting people who can offer coaching, mentor-ship, discuss opportunities of mutual benefits. However, don't consider our CEO and co-founder Mr. Abhishek Jaiswal a total geek too. You can meet him to discuss life in general or just to have a chit chat. He loves interacting with people and have great knowledge and unique skill set. Meet him and we promise you won't be disappointed.
Connect with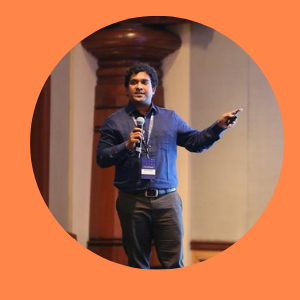 Abhishek Jaiswal
CEO & Co-founder, CedCommerce
abhishekjaiswal@cedcommerce.com