Set up your e-commerce marketplace and start earning, today!
Running short of time? Get PDF of the blog in your mail.

Imagine this: You go to sleep at night, thinking about the vacation bills that have piled up since the last month. You are worried about meeting them. Where is the money going to come from? Your regular salary is spent in meeting the normal household expenses. There is hardly any money to spare. You go to bed all worried and when you wake up, there is a wad of bills lying next to your pillow. You are thrilled and you count the money, receiving another pang of surprise when you discover that it is a few hundred bucks more than you needed. And the same process repeats, day after day, every day. That is sort of what having a successful e-commerce marketplace feels like.
Well, almost. You will have to work to set up your shop, of course, more so at the beginning than later when you can put things more or less on autopilot. However, you can manage alongside a full-time job or even your studies.
And the best part is the fact that the work involved in creating and maintaining a marketplace is interesting in the utmost. You get to interact with a variety of vendors, collaborate with them, moderate them, and keep an eye on their sales — all the while making a commission on every purchase.
According to Statista, In 2017, retail e-commerce sales worldwide amounted to 2.3 trillion US dollars and e-retail revenues are projected to grow to 4.88 trillion US dollars in 2021. The top 3 online stores' revenue amounted to almost 100 billion US dollars in 2017.
B2C e-commerce marketplace:
B2C E-commerce often used for online retail or online shopping. But it also includes categories of Paid services and Paid content. Amazon is one of the largest online B2C Retailers with about 237 million customers as of the end of 2014. Amazon also provides third-party sellers with a platform through which other businesses and individuals can reach customers.
According to Statista, In 2018, the global B2C e-commerce sales are expected to reach 2.35 trillion U.S. dollars.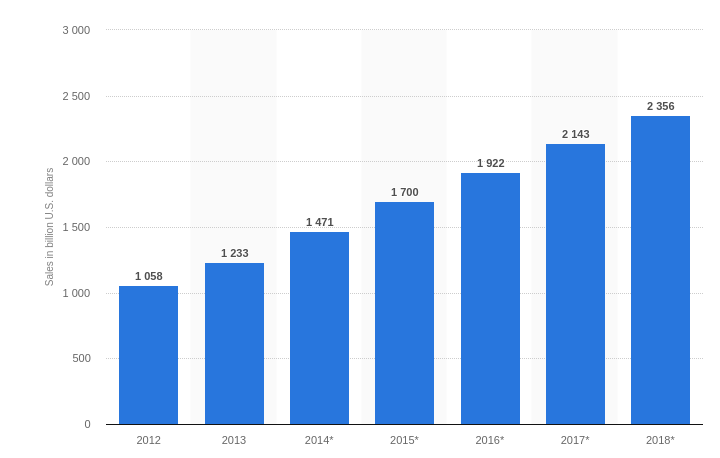 Source: Statista
B2B E-commerce Marketplace:
B2B E-commerce Marketplace includes the online commerce between businesses at level of manufacturers, wholesalers, and retailers as opposed to between companies and the general public or governments.
In B2B E-commerce Exchanges between businesses aren't constrained to retail and the arrangement for the offer of items. B2B web-based business additionally incorporates the purchasing and offering of organizations, for example, photograph sharing sites or other online websites.
According to Statista, In 2017, the gross merchandise volume of business-to-business e-commerce transactions is reached 7.66 trillion U.S. dollars, up from 5.83 trillion U.S. dollars in 2013.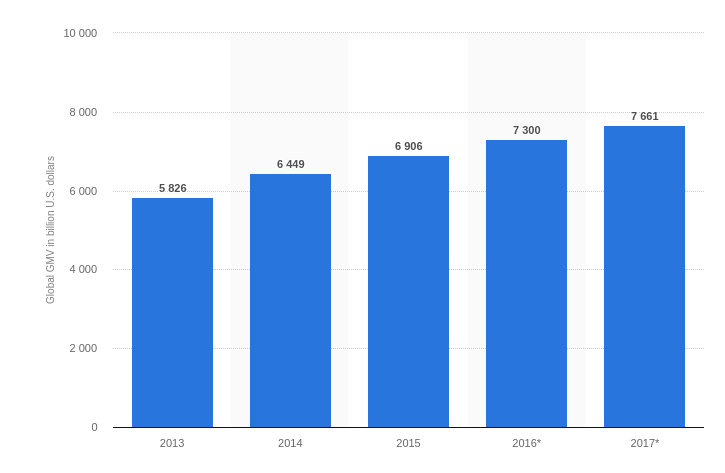 Source: Statista
Like Cooking? Start an e-commerce marketplace for dishes and recipes:
The job is even more interesting and will hardly feel like any work at all if your e-commerce platform is about selling something you are already passionate about. Whether it is computer games, or magazines, or novels, or the fantastic tea that is found only in your state — if you like it, chances are that others in the world would like to buy it as well.
This will make your duties more interesting but also ensure that you can use your hobby or your passion and turn it into the source of a side income. And if the business picks up and you find yourself enjoying it?
Well, in that case, only the sky is the limit for how much money you can make. In case you are wondering about the market potential — the electronic commerce or e-commerce market is worth around $22.1 trillion. (Source: ET)
That is a pretty massive pie and you don't need all that large of a slice to start raking in money like snow in the winters.
Looking for another shot at greatness?
Don't tell me you enjoy your 9 to 5 job. Okay, so maybe you do. But unless you work as a product tester for Jack Daniels, you probably don't see yourself doing the same thing until you are 60. For one, repetitive tasks are mind-fumblingly boring.
Secondly, there is an automatic ceiling that comes with every job. There are probably millions of other professionals in your field and you can go only so far. Finally, where is the thrill, the adventure, in generating sales for someone else?
With your own e-commerce marketplace, you get to decide the number of hours you are going to be putting in. You get to decide if lunch break is at 12 in the morning or 4 in the evening. And the best part? The business keeps running and making you money even when you are catching a few zzzs at night.
And, after a certain amount of time and effort you can put things on autopilot and enjoy the fruits of your labor — whether by embarking on a tour of the world or by settling down on a nice farmhouse away from the city.
And let's not forget the sense of adventure and the chance to set up an asset using your own bare hands. Given enough time and effort, you could even become a job creator. Like we said earlier, only the sky is the limit.
But it is so hard to set up an e-commerce marketplace, you say?
After all, there are so many elements like finding a niche, developing an ecommerce website, hosting, listing and cataloging products, attracting customers, collecting payments, shipping goods, and managing vendors involved. And you will need to code the whole website. Just to get more than the limited functionality offered by pre-ready solutions as well. Right? Well, wrong!
With our Magento marketplace, you could have an e-commerce store up and running in a matter of minutes. And not just any store, but one similar to Amazon and Etsy. Such a store will also allow other merchants to list themselves on your platform.
And you can make a commission on every sale they make! What's more, each and every pain point including payments, shipping, etc. have been taken care of through our extensions.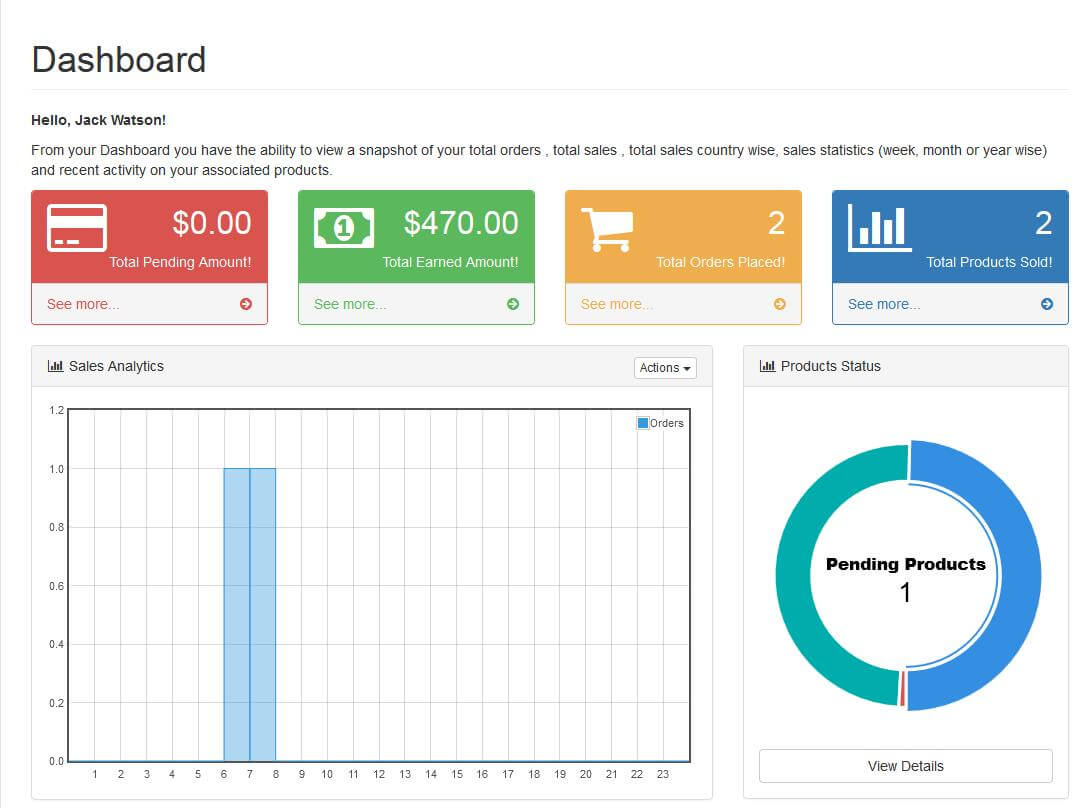 So what are you waiting for? Grab our Magento 2 Marketplace Platinum Extension today And wave goodbye to the old life. Don't wait, we are seeing massive demand, and the offer will not last forever.
Still not sure? Check out some of these reviews about our marketplace extension.
I have gone through this extension and I can tell you that is very great. Cedcommerce did a great job. This is one of the best marketplace extension base ever
–  Calpic Logistics
A very useful extension, for New Magento 2 users. I have found this extension after a lot of search, and it is the only one that fulfilled my requirements of making a marketplace.
Support also helped me a lot to set and customize there extension according to my requirements.
– Anna
You may be a single click away from creating the next Amazon, or eBay. The chance to implement your business ideas and acumen is here.
Use your strategies to grow your e-commerce marketplace while we take care of the technical requirements — with a dedicated account manager just for you. Felt like you had it in you to create a gigantic business that lasts even after you are gone? We are giving you the chance to do so!
Buy the Magento 2 Advance Marketplace Extension today!
Thank you for your interest. 
Read More Blogs: