B2C Marketplace Case Study: Trunc
Running short of time? Get PDF of the blog in your mail.

Play Now
"And Covid is only pushing more and more consumers, more and more enterprises to do things over the internet.," said Amit Anand of Jungle Ventures, a Southeast Asian company. And that's exactly how the b2c marketplace case study of Trunc began.
The SSI Group, one of the Philippines' largest specialty retailers, planned to generate 15 to 20 percent of its revenue from online sales with the launch of its multi-brand eCommerce website. Furthermore, SSI President Anton Huang said they expected to hit the target in three years during the launch of Trunc.ph. Despite the SSI Group ramping up the launch of Trunc to November 6, 2020, from 2021, the accommodation of SSI's popular brands in one destination and a distinct shopping experience would set it up for success in the future.
Moreover, Trunc was launched during the initial phases of the covid-19 pandemic. If the pandemic had several businesses shut down, it also prompted more entrepreneurs to launch eCommerce businesses. At CedCommerce, we helped several businesses launch their online marketplaces during the pandemic and they are growing steadily. Brandeyz, Omaneorder, Purplebox, Power Tools Near Me, and Rack Tribe are among some of our many clients.
Let's explore the b2c success story of Trunc and where CedCommerce fits into the scenario.
About Trunc
Trunc is a one-stop online luxury shopping destination comprising a collection of coveted brands, with the SSI Group as the parent company. Furthermore, Trunc is a first-of-its-kind multi-brand treasure trove of the finest high-end luxury brands, the most sought-after casual brands, and a diverse range of home essentials, beauty products, and cosmetics.
"The addition of Trunc, Trunc Show, and PowderRoom to our online properties enhances and expands the retail experience of the SSI customer. Through Trunc.ph, we seek to provide our customers with a world-class shopping experience which upholds the same level of personalization we provide in our brick-and-mortar stores, and makes accessible a unique and desired brand lineup," said Anton Huang, President of the SSI Group.
Trunc is an eCommerce multi-brand website, complementing the SSI Group's 10 existing brand.com sites. With this multi-brand marketplace, gained access to a wide range of quality brands on one convenient digital platform that brings together some of the Group's most recognizable brands.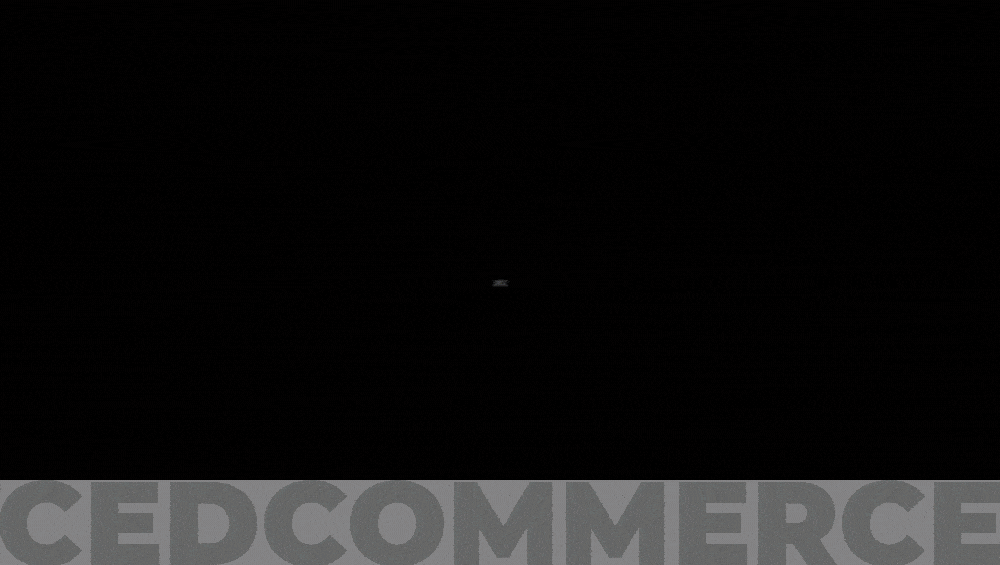 Furthermore, a multi-brand marketplace featuring some of SSI's most sought-after brands would be the first of four shopping categories on Trunc.ph. The other categories include Trunc Show, a digital boutique dedicated to premium designer brands, PowderRoom by Trunc, beauty and skincare destination, and Trunc at Home, a home and living destination.
South East Asia: The growing scope of eCommerce businesses
Southeast Asia's eCommerce ecosystem is still at a "very, very nascent stage" and many more business models and companies will be formed in the region, said the founding partner of a venture capital firm.
According to a 2021 industry report from Temasek Holdings, Google, and Bain & Company, Southeast Asia saw a surge in the use of digital services, including eCommerce, food delivery, and online payment during the covid-19 pandemic. Furthermore, the same report stated that as many as 40 million people in six countries across the region — Singapore, Indonesia, Malaysia, the Philippines, Vietnam, and Thailand — became new internet users in 2020.
More importantly, eCommerce sales in Southeast Asia will amount to $89.67 billion in 2022, an increase of $15.31 billion over last year. Furthermore, the region will cross the $100 billion mark, a long way from the $37.22 billion recorded in 2019 by next year.
Southeast Asia's growth stands out even more, given that most other geographies will see only moderate increases this year. Furthermore, only four countries in the world will produce faster growth rates than Southeast Asia's combined figure, and two of them — the Philippines and Indonesia — are in the region. Five countries within the region — the Philippines, Indonesia, Vietnam, Malaysia, and Thailand — will rank among the top 10 markets measured by retail eCommerce sales growth.
Marketplace functionalities Trunc employed
Our robust Magento 2 Marketplace solution helped the SSI Group to set up a luxury retail B2C marketplace. The functionalities form the core of the b2c e-commerce case study.
Complete Marketplace functionalities
Marketplace Platinum Package for Magento 2 provides a complete eCommerce marketplace package. Furthermore, it consists of Marketplace Basic extension along with 9 other necessary add-ons at $299. Furthermore, you can create an even more powerful multi-vendor eCommerce store with new and advanced features. It makes it more automated, efficient, and convenient for your vendors to sell on the marketplace.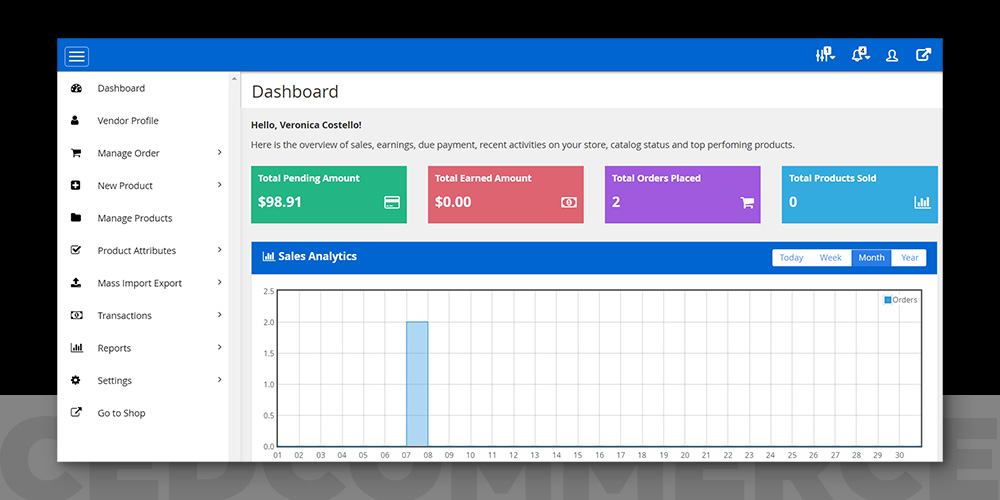 Features of the Marketplace Platinum Package:
The primary features of the Marketplace Platinum Package listed below are essential for a b2c marketplace case study: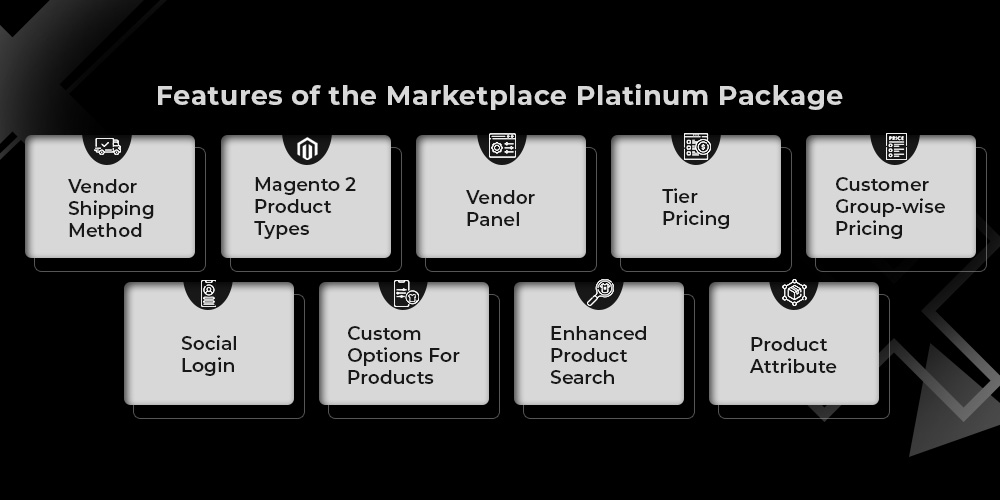 Your vendors can ship orders from the vendor panel and complete the order life cycle without any admin interference. There are several shipping methods for an online marketplace, including UPS, FedEx, flat rates, free shipping, etc. The admin can configure the shipping methods of products.
Your vendors can create all types of Magento 2 products, including Simple, Configurable, Virtual, Downloadable, and Grouped & Bundled Products.
It works seamlessly on browsers on mobile devices. The vendor panel has been designed by certified UI/UX Designers.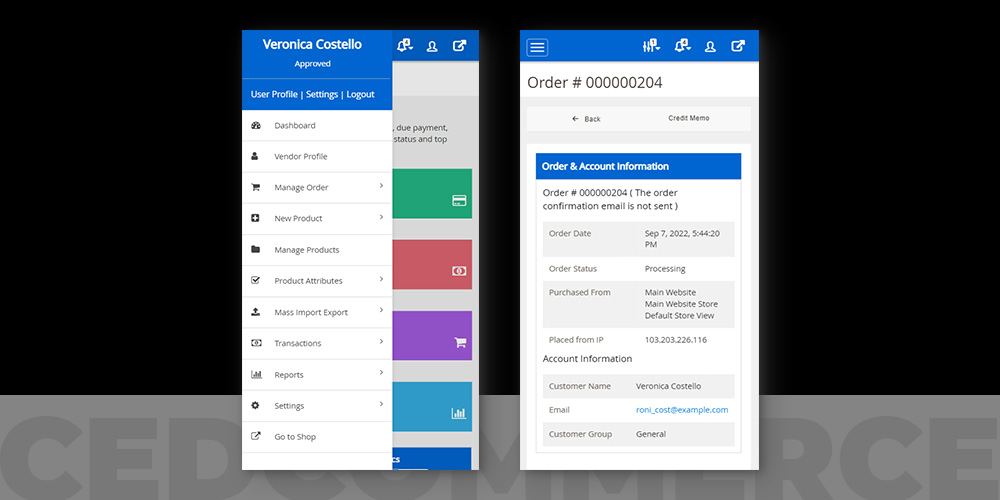 Vendors on the marketplace can set tier pricing for their products. For example, customers can purchase 5 quantities for $10, the cost for 10 quantities will be $9, or a 10% discount will be offered, etc.
Customer Group-wise Pricing
Vendors can set pricing for their products based on customer groups.
Social login for vendors and customers is included in the package. Social login through accounts, including Google, Facebook, Twitter, and Linkedin is available.
Custom Options for Products
Vendors can create custom options for products to offer a selection of options with a variety of text, selection, and date input types. When a customer purchases a product with a customizable option, a description of each selected option appears below the product description, and any associated markup is automatically applied to the price of the product.
Enable customers to search for products on a vendor's profile on the multi-vendor marketplace.
Vendors can create attributes from the vendor panel and create attribute sets for their products.
Let's look at some other functionalities the SSI Group required for a retail b2c success story.
Bulk Product Import & Export From The Vendor Panel
Vendor Mass Import & Export Addon for Magento 2 helped vendors on your multi-vendor marketplace to upload products in bulk. When the products are high in numbers, adding them manually is time-consuming. Furthermore, vendors can easily upload all types of products, including Simple, Configurable, Virtual, Bundle, Grouped, and Downloadable with the add-on.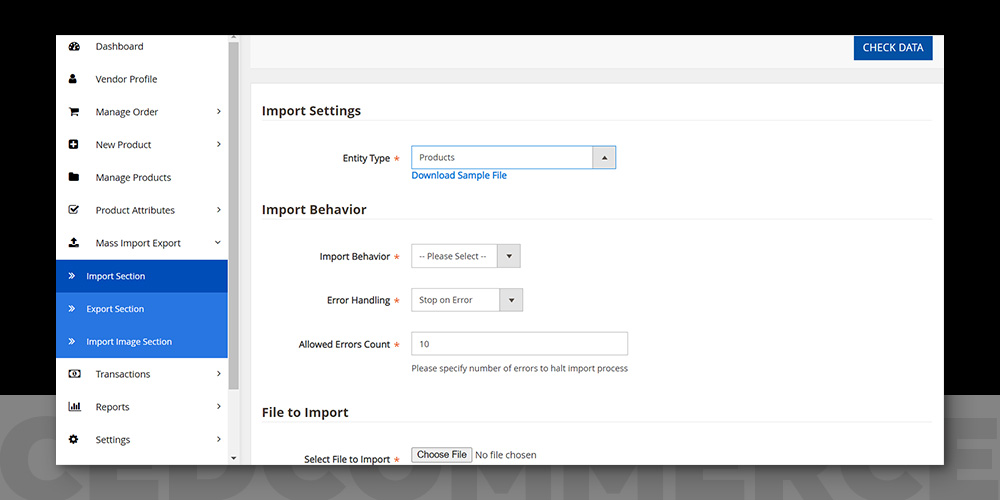 Marketplace Platinum APIs
Another functionality that helped Trunc create its b2c e-commerce case study. You can use Marketplace Platinum APIs to integrate the Marketplace Platinum features into another software or system. 
B2C marketplace case study: How it's going for Trunc?
With its expansive store network and large brand portfolio, the SSI Group is the Philippines' largest specialty retailer, leading the retail market online. Furthermore, their latest addition to their digital portfolio – Trunc.ph, a multi-brand eCommerce retail B2C marketplace with four unique concepts in one online store – is connecting them to a monthly audience of over 1.7 million engaged customers.
Consumers in the Philippines can now easily access the top brands in retail through Trunc.ph. With its seamless and tailored online shopping experience, Trunc.ph brings together many of the SSI Group's brands in one place. Furthermore, Trunc brings the retail expertise of the SSI Group to life online with brands such as Tory Burch, Michael Kors, Kate Spade, MUJI, Lush, Tommy Hilfiger, Calvin Klein Jeans, Lacoste, and many more.
SSI President Anton noted that the pandemic increased online-related sales by over 300% in the first nine months of 2020. Moreover, digital sales accounted for almost 8% of total sales in the third quarter and 5% for January to September.
"The Group's ability to innovate and its ability to adapt, on top of the robust operating and financial foundation that it has built over the last few years, will drive our accelerated e-commerce strategy, as we seek to increase the number of channels through which our customers can interact with us," said Huang.
How to start a marketplace like Trunc?
Listed below are the initial steps to begin your journey of a B2C marketplace case study like Trunc:
First, you must select an appropriate domain name for setting up your retail B2C marketplace.
Hosting partner for your eCommerce website
Select a hosting provider to host your B2C eCommerce website. Moreover, you can choose either Cloudways, Digital Ocean, AWS, or Nexcess as a hosting partner.
Install Magento 2 eCommerce framework
Install the Magento 2 eCommerce framework once the above steps are completed. Furthermore, Magento 2 CE is available free of cost on its official website. You will have access to the front end (Customer View) and a back end (Admin panel) with a default Luma theme once you have installed it on your domain.
Click here to get more details on Magento 2.
Why Choose Magento 2 CE eCommerce framework for a b2c case study?
Though there are several multi-vendor marketplace solutions out there , Magento 2 stands out for enterprise-level eCommerce brands. Reason? There are plenty. Magento 2 comes with advanced functionalities to set up an eCommerce website. Furthermore, the eCommerce platform supports vertical scalability and business expansion. Magento 2 is one of the most secure platforms to start an online marketplace business, trusted by brands like Coca-Cola, HP, AsusTek, Jaguar, Procter & Gamble, Tommy Hilfiger, and more.
The image below illustrates the reasons for choosing Magento 2 to create your b2c e-commerce case study.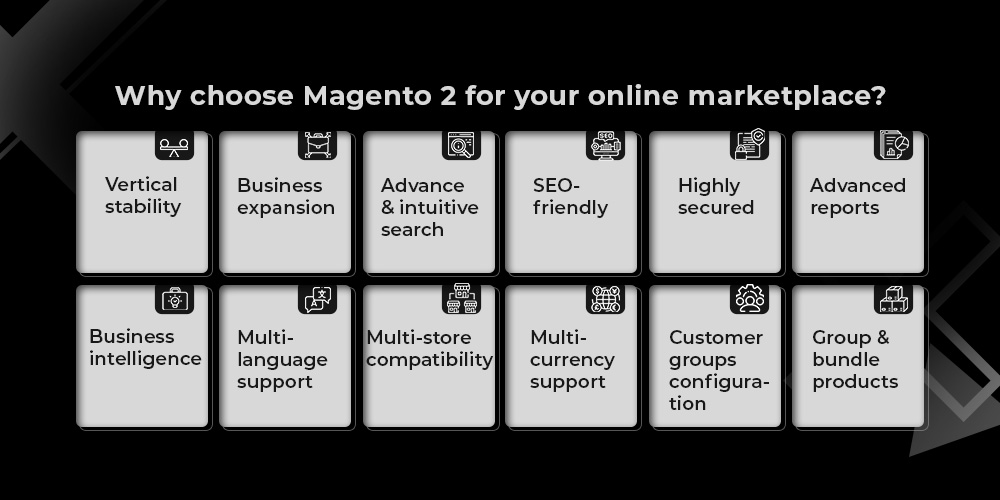 Select a third-party front-end theme
You can install a third-party front-end theme, such as any Magento 2 theme from Envato Market or the Amasty Jet Theme. However, you must first check whether your preferred front-end theme is compatible with our Magento 2 Marketplace Solution.
CedCommerce Marketplace Extension for Magento 2
Our Marketplace Solution comes with all the standard and advanced features and functionalities to set up a B2C multi-vendor marketplace. Furthermore, vendors can create all types of products and can manage orders from the vendor panel. It also supports separate app development for vendors and customers. Other features supported are listed below:
Product attribute management by vendors
Social login for customers and vendors
Vendors can ship orders directly from their panel and complete an order life cycle without interference from admins.
Customers can search products and their details provided by vendors on the vendor's profile.
With a mobile responsive vendor panel, vendors can easily operate their vendor panel on browsers on mobile devices.
Vendors can create all types of Magento 2 products
Simple products
Configurable or Variable products with drop-down lists with options for each variation
Virtual products or digital products represent non-tangible items such as memberships, services, warranties, or subscriptions and downloads of books, music, videos, etc.
Downloadable products such as an eBook, music, video, software application, updates, etc.
Bundle products
Grouped products of simple standalone products are presented as a group
Are you impressed with Trunc's b2c e-commerce case study? Here's another example of a b2c marketplace case study: e-Mwakete marketplace.
You can talk to Magento-certified experts to plan your b2c e-commerce case study. You can check our Adobe Commerce Development Services and a dedicated B2C marketplace platform. Click on the link below to start your journey of a b2c marketplace case study. 
Check our Magento 2 Marketplace Solution
If you use our marketplace solution and stick to the steps listed above, you never know; we might be covering your b2c e-commerce case study next.
---
Disclaimer: The content and images used in this b2c success story belong to their respective copyright owners. If you have any concerns related to this b2c case study, please send us an email at support@cedcommerce.com.